He partners with senior leaders and business owners to help them with proven business growth, crisis management and succession planning strategies.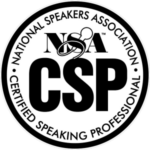 Almost 60% of US based companies have no succession plan for the future of their business.
Most business owners have no contingency strategy for personal income or the wellbeing of their employees if something unexpected happens to them.
It's easy to overlook the current financial benefits that result from a future succession plan.
At age 28, he became the CEO of a 100-year-old family business, which was six months from bankruptcy. With the help of an unexpected mentor named Frank, Richard was able to turn the company around leading to strong profits, top-ranked customer service due to team performance, and sustainable growth in new brand franchises. The foundation for their growth and eventual highly-profitable sale was a strong succession plan that connected all stakeholders under one vision.
For over two decades, Richard has worked alongside business owners and senior leaders to create the same level of team performance and profitability through effective succession planning strategies.
Richard is experienced in the following niches:
Dealer Networks
"Richard's message was right on the mark with our dealer CEO's. I'd highly recommend him."

Financial Advisors
"My clients liked the fact that Richard had been through a difficult succession in his own family business."

Banking & Finance Groups
"Richard worked with our key stakeholders ahead of time to ensure his presentation was perfect for today."

Insurance Companies
"He was spot on with his message for our group."

Don't see your industry? Let's change that.
Richard's three-step process ensures your dealers and clients

Interviews with a cross-section of your clients, dealers, or association members about their businesses
Identifying specific stories that will resonate with all audience members
Industry research so that examples are current and relevant to the audience

Customized event intro video for your event
Real-world stories told in the industry-specific language of your audience
Relatable stories that connect directly with your audience and the challenges they face
Vital content wrapped in humor and entertainment
Powerful call to action, giving reasons why they should take action today

Succession Planning Book
Succession Plan Template
Relevant Research to ensure CEO's and business owners take action
is right for your organization?

Create a seamless leadership transition from one generation to the next. Richard will use his personal story as a case study and share entertaining stories that provide humor and encourage audience participation and learning.

Go beyond theory with reality-tested leadership lessons Richard learned along the road to becoming a respected leader. Includes excerpts from his no-nonsense, leadership book Being Frank – Real Life Lessons to Grow Your Business and Yourself.

With the help of the right mentor, Richard took his family business from near bankruptcy to a profitable sale over the course of 10 years. He has gathered his key learnings (the good, the bad and the ugly) in this no-nonsense and lively keynote.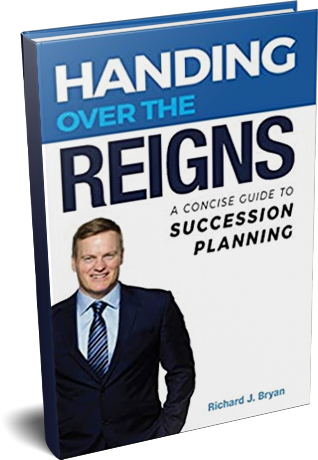 Handing Over the Reigns is a must read for anyone who is contemplating passing their business on to the next generation. This book is based on Richard's experience in a 4th generation 100 year old family business and from the work he has done with many other privately held companies in the UK and USA.
Frank was ex-special forces with a fine arts degree – an unusual mix! With his help, Richard Bryan turned around his family business that was losing more than $3 million a year. In this book, Richard shares lessons he learned from his mentor Frank about how to develop a more successful business.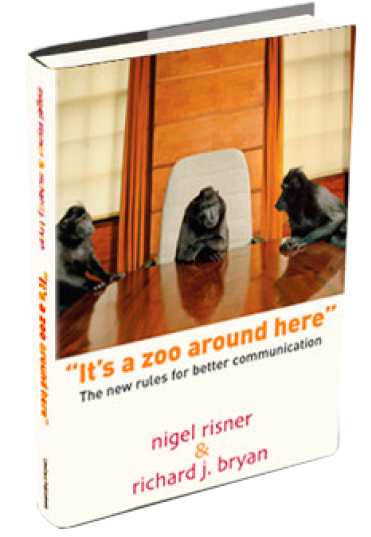 With so many different people to communicate with how do we make sure we are speaking in a style that suits the other person? Richard and Nigel have come up with simple yet effective ways of communicating with all the animals in your life.
Significant financial impact NOW and later
Your plan will create a financial impact you can see immediately, and will generate a better transition of leadership or sale in the future
Knowing that you have a plan in place to safeguard the future of your business which will  benefit all stakeholders (customers, employees, suppliers, family, business owners)
Ability to attract and retain A-Players
Grow your bench strength and hire the best talent available in the marketplace by providing opportunities for future leaders
Clarity between all business stakeholders
Reduce conflict and harness the power of a team connected by a common purpose to maximize the value and impact of the business
Preparation for any environment and downturn
Having a succession plan outline that is dynamic and evolves over time gives you the flexibility to respond quickly to a changing business environment or downturn in the economy
Find Out if Richard is a Good Fit for Your Event or Company Meeting by Scheduling a Free 30-Minute Discovery Session.